It's Springboard America's 10th birthday...
... and we're celebrating with a fresh new look!
Springboard America has come a long way since our debut in 2009. Over the past decade we've become known as one of America's premier online research communities, conducting millions of interviews about a wide range of topics. We've also been committed to improving our website, survey platform, incentives programs, and even our logo to provide a great experience to our members.
Today, in 2019, we are still committed to improving Springboard America and are excited to announce that you'll soon see some updates to our website, emails, social media profiles, and branding. But first - a look back at Springboard America through the years!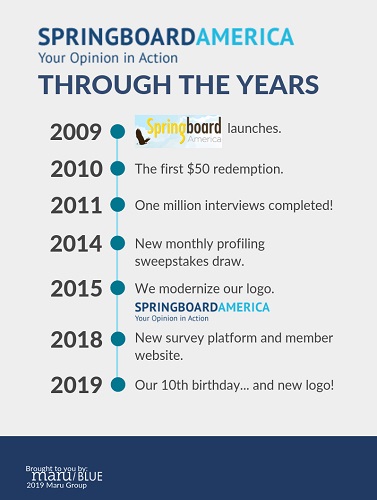 (Hover over the image to read more.)
---
How we designed our new logo:
If you've been a member over the past months, you may remember receiving at least one survey where we shared some logo designs and asked for your opinion. Not all the designs went over well, and one logo received particularly harsh reviews (oops... but that's why we asked you first!).
Three surveys and 12 designs later, we found a logo that stood out from the others in a positive way. We shared that logo with the rest of our team who agreed that it would be a good choice to represent Springboard America as we enter our second decade.
Without further delay, here is the design that SBA members helped us choose:

---
So... what's a Maru?
We read this question thousands of times in the logo test survey results, and we also learned that 61% of those who completed our most recent Member Satisfaction Survey are not very familiar with the Maru brand.
Maru (Maru/Blue) is the data services/market research firm that owns and operates Springboard America, and there's a story behind the name.
"Maru" is a nod to the Kobayashi Maru – a fictional training exercise designed to test discipline and character in a challenging situation – and is also the Japanese word for "circle." (Yes, we have many Star Trek fans in the office!) Circles are at the heart of what we do: closing the loop between brands and customers, transforming data into insights, and building long-lasting connections with our community members.
We're proud of everything that Springboard America has accomplished over the past 10 years, and we want the world to know that Maru and Springboard America belong to the same family as we boldly step forward into our next 10.
-May we together become greater than the sum of both of us.
(Daugherty, Herschel dir. Star Trek: The Original Series. Season 3, episode 22, "The Savage Curtain." First aired March 7, 1969.)